Dental hygiene is available in both our Bratislava & Piešťany dental clinics.
Sometimes called "dental cleaning" or "polish & scale" at Smile Clinic Slovakia our mission is to ensure that EVERYONE has the opportunity to get their smile into the best shape possible.
That's why along with our award-winning cosmetic & restorative dental procedures such as dental implants, crowns & veneers, we offer the most advanced, pain-free method of dental cleaning available in Slovakia today.
What's more, for local English-speakers and Ex-pats, all documentation and communication are in English of course, so that's another worry off your list.
How often should I go for dental hygiene?
International guidelines recommend a dental hygiene session once every 6 months. In some cases of excessive periodontitis, your dental hygienist may recommend a few repeated sessions over a few weeks to stop the periodontal disease spreading.
What's different about dental hygiene in Smile Clinic?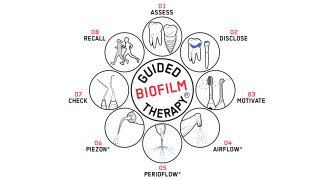 Smile Clinic uses Guided Biofilm Therapy (GBT) which we call the "wonder smile machine". This is a new Swiss innovation that replaces old-school methods of dental cleaning for a pain-free dental hygiene session where:
After an initial dental hygiene assessment, your teeth are brushed with a blue dye that makes any bacterial biofilm visible to both you and the dental hygienist. The hygienist will then allow you to have a look at your oral state in the mirror. Most patients are amazed at just how much damaging bacteria is there, even when they clean their teeth well every day.
The dental hygienist will then go about to clean up all the areas where the blue dye is showing bacterial deposits on the teeth.
You'll then be shown the mirror once again to be sure that all the bacterial deposits have been removed, especially in those hard to clean areas.
The Dental Hygienist will then seal the clean teeth with a coating of Flouride to protect them until your next visit to us.
Smile Clinic Wonder Smile works for all dental patients.
Tea, coffee, smoking stains
General recall hygienist appointments
Patients with implants.
Patients with orthodontic appliances
Children
Mild to severe periodontal patients (Gum disease)
Denture wearers (cleans the denture as well as your remaining teeth)
Who does dental hygiene at Smile Clinic?
Smile Clinic currently has 3 full-time dental hygienists who work alongside or expert team to achieve and maintain the best long-term results for those who are patients of Smile Clinic Slovakia.
What are the benefits of the Smile Clinic Wonder Smile Hygiene Session?
There are many benefits to having a dental cleaning session in Smile Clinic apart from helping you to maintain outstanding levels of oral hygiene such as:
Reduce the amount and stop the regrowth of dental biofilm
Get underneath the gum tissues to treat periodontal disease
Clean around dental implants, bridges and braces (for children and adults) by clearing the biofilm in these areas and slowing down regrowth.
Removes stains and calculus much more effectively than traditional polishing.
Clean dentures beautifully.
PAIN-FREE technique
The ultra-fine powder used, 'Erythritol' is completely safe for adults and children.
How long does a dental hygiene session take?
A typical dental hygiene session takes 35-45mins with our specialized dental hygienists in Smile Clinic Slovakia
Dental hygiene cost in Bratislava Slovakia
Dental hygiene sessions currently cost €70 in our clinics, however, if you have left a stellar review on Google you'll have your dental hygiene session for just €50. You can also opt for a free dental check-up during your visit with one of our doctors if you like.
Teeth cleaning/scraping of plaque and tartar and removing of stains from coffee and tea, using hand-instruments and ultra-sonic scaler
Teeth polishing with polishing and prophylactic paste with fluoride
Instruction on how to brush, and floss
The dental hygiene session includes an "Air flow" treatment. Air Flow is a stain blasting material using water, air and powder to remove plaque, tarter and stains more efficiently. It also is used to get into those "hard-to-reach" places below the gum line called "pockets" that can't always be reached by scraping. Air flow is ideal for those who suffer from sensitive teeth.
Can children have dental hygiene in your clinic?
Yes, children are more than welcome to attend dental hygiene sessions, however they are of course limited to 15minutes. So why not come along and have a dental hygiene sessionw ith your children as well?
It's a great way to introduce a child to pain-free visits to the dentist before any fear might set in later on in life.
I'm pregnant – can I have dental hygiene?
Are you pregnant and want to know about dental hygiene during pregnancy? Read our article.
How can I book a dental hygiene appointment in Bratislava or Piešťany?
Use our contact form on this website right now to book a dental hygiene appointment.
The Smile Clinic in Bratislava is conveniently located on the ground floor Tower 115, close to Eurovea and the new National Slovak Theatre, with free parking for three hours, and on bus lines X13, 28 and 210 with a short five-minute walk.
Now, there is no excuse to not to have a healthy smile!
Page last reviewed: 25 February 2021